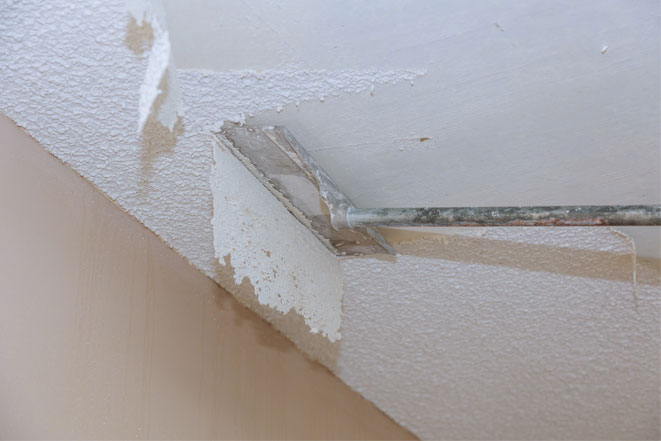 Popcorn ceiling removal is the process of removing the outdated popcorn ceiling patterns that were once popular many years ago. If your home has a popcorn ceiling style, you can move to the cleaner and smoother styling that is more popular today. Sunbow Painters is an expert when it comes to popcorn ceiling removal. Whether you are looking to fix one room or an entire house, you can always count on us to deliver the results that you expect.
What is Popcorn Ceiling Removal?
Popcorn ceiling was a popular ceiling style where the ceiling was designed to have a textured look and feel to it. In the early eighties, many home developers would have a popcorn ceiling in bedrooms and hallways. However, as the years went on, the style diminished in popularity and homes that were built in later years had smoother finishes on the ceiling.
Homeowners with homes built in the eighties are often changing the styles of their ceilings. Popcorn ceiling removal services require professional contractors such as Sunbow Painters. Without such professional services, you run the risk of having a sub-standard finish.
Benefits of Popcorn Ceiling Removal
By removing your old popcorn ceiling and replacing it with a modern one, you give your home a clean and modern look.
Replacing your old popcorn ceiling helps to raise the value of your home because outdated styling has the effect of depressing property prices.
Popcorn ceiling removal gives you various options for your ceiling, ensuring that your décor becomes more customized to your tastes.
Popcorn ceiling removal is a cost-effective method to modernize an older house.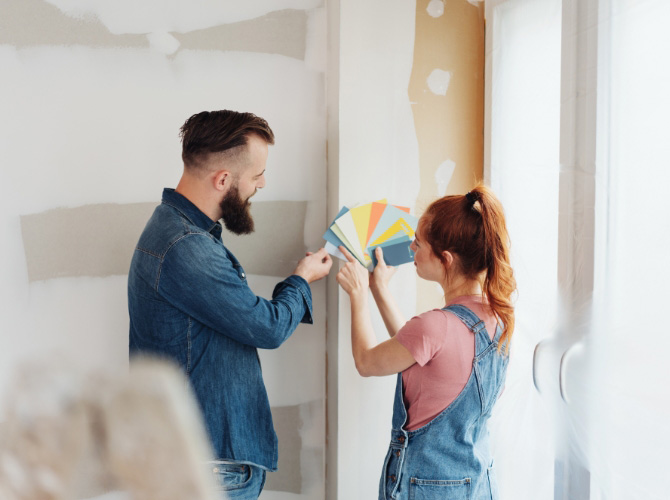 Features of Our Popcorn Ceiling Removal Services
Our popcorn ceiling removal services are done with minimal clutter. We work in a neat, orderly and safe fashion, minimizing disruption for your family.
You can count on our popcorn ceiling removal services to be done cost-effectively. Our rates are very competitive and deliver value for your money.
We are well versed with a variety of ceiling designs so regardless of the style of your home, we will deliver results you love.
Sunbow Painters presents a total solution when it comes to giving your house a makeover. We can combine our popcorn ceiling removal services with interior/exterior painting services ensuring a brand new look for your home.
Why Work with Sunbow Painters for Popcorn Ceiling Removal?
When you come to Sunbow Painters for your popcorn ceiling removal, you can count on us to deliver the results that you are looking for. As a homeowner, you can also have peace of mind that we are licensed and have the required liability insurance cover. We also work hard to deliver our work on schedule. We understand that you may not always be familiar with some of the elements of our work so our staff is always at hand to answer any questions that you may have.
If you need more information about our popcorn ceiling removal services, please feel free to contact us at Sunbow Painters today to learn more.
Get a Free Remote Estimate
We're here to help and call for a free in-home estimate.
+920 659 7515