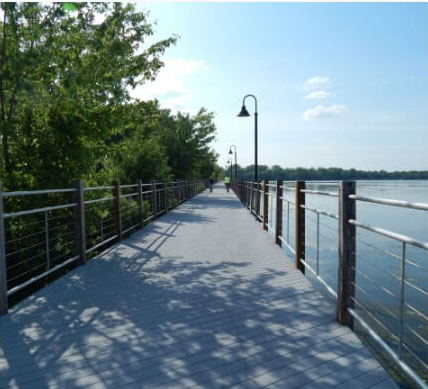 When it comes to getting your Fox Crossing home painted, Sunbow Painters are sure to get the job done. Our staff is not just highly skilled professionals, but they take neighborly pride in delivering the best for you. We go out of our way to ensure that we give you the best residential and commercial painting experience that you have ever received. This means delivering great results but also exceeding your expectations when it comes to all the other aspects of your customer experience.
About Fox Crossing, WI
Fox Crossing is a village that is located in the County of Winnebago, WI. The village is home to approximately 20,000 people. It was incorporated from the former Town of Menasha in 2016. Fox Crossing is located at the north end of Lake Winnebago along the Fox River which forms Little Lake Butte des Morts through the Village. The Village partially surrounds the City of Menasha. Other adjacent communities include: Harrison to the east, the City of Neenah and Town of Neenah to the south, Clayton to the west, and the Outagamie County communities of Greenville and Grand Chute to the north and Appleton to the northeast.
Residential Interior Painting Services in Fox Crossing, WI
Sunbow Painters are the best when it comes to residential interior painting. We are not only skilled in our craftmanship, but we also ensure that we make it a great experience for you. Our craftsmen make a point to always arrive on time and to finish any work that we undertake within the agreed timelines. We are always happy to answer any questions that you have and to offer suggestions to help improve the final look of your home.
Room Painting
Kitchen Painting
Bathroom Painting
Office Painting
Bedroom Painting
Dining Room Painting
Living Room Painting
Sun Room Painting
Basement Painting
Condo Painting
Duplex Painting
Painter for a Day
Color Consultation
Residential Exterior Painting Services in Fox Crossing, WI
Whenever you are looking to transform the look of your home, always consider using Sunbow Painters' residential exterior painting services. Using specially formulated paint, we can give your home a great new look while removing unsightly spots of faded or peeling paint.
Exterior Brick
Vinyl & Aluminum Siding Painting
Wood Siding and Cedar Shingles
Deck & Fence Staining
Garages
Powerwashing (for Surface Preparation)
Commercial Painting Services in Fox Crossing, WI
At Sunbow Painters, we understand that the look of your commercial property has an effect on how well your business performs. We go out of our way to deliver outstanding results on time and within the agreed budget. This way, you get great value for your investment and you also get to transform your business.
Office Buildings
Bars & Restaurants
Retail
Apartments
Schools
Hotels
Bars & Restaurants
Healthcare
Why Should You Work With Sunbow Painters in Fox Crossing, WI?
When you come to Sunbow Painters, you can always count on us to give you the best results possible. We see each and every client who comes to us as unique and we thus strive to ensure that we meet and exceed their expectations. We take pride in the fact that integrity is a key principle for us. This means that we are going to do what we promise to do without making excuses. We also respect your schedule and time which is why you can count on us to finish any project on time.
If you want to get a free estimate or know more about our professional painting services in Fox Crossing, WI, do not hesitate to contact us today.