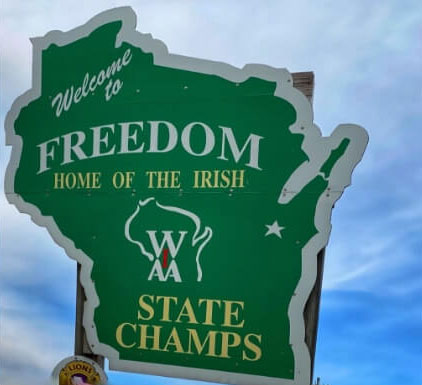 When you select Sunbow Painters to paint your home or business in Freedom, WI, you can be sure that we will deliver the results you are looking for. We take our time to understand what exactly you are looking for. This way, we are in a better position to deliver the results that you want. Our skilled craftsmen are professionals and will keep you in the loop every step of the way. Reach out to us today and let us transform your home or place of business.
About Freedom, Wisconsin
Freedom is a town that is located in the County of Outagamie in the State of Wisconsin. Freedom is home to about 6,000 people. It is a growing community at the crossroads of the Fox Valley, located halfway between Appleton and Green Bay.
Residential Interior Painting Services in Freedom, WI
At Sunbow Painters, we understand the importance of interior painting services. Not only does interior painting revitalize the look of your home but it can even make your house more comfortable. This is because colors affect our mood and having the right color in your home can make all the difference.
Room Painting
Kitchen Painting
Bathroom Painting
Office Painting
Bedroom Painting
Dining Room Painting
Living Room Painting
Sun Room Painting
Basement Painting
Condo Painting
Duplex Painting
Painter for a Day
Color Consultation
Residential Exterior Painting Services in Freedom, WI
When it comes to residential exterior painting services, you can count on us to give you the best results. We use specially formulated exterior paint that protects your walls from mildew and effects of excessive moisture. This is in addition to improving the look of your house.
Exterior Brick
Wood Siding and Cedar Shingles
Vinyl & Aluminum Siding Painting
Deck & Fence Staining
Garages
Powerwashing (for Surface Preparation)
Commercial Painting Services in Freedom, WI
When you engage Sunbow Painters to paint your business facility, you can be sure that we will cause the least disruption possible. We understand that you need to transform your place of business without inconveniencing your clients. You can also count on us to deliver the desired results within the agreed timelines.
Office Buildings
Bars & Restaurants
Retail
Apartments
Schools
Hotels
Healthcare
Why Should You Work With Sunbow Painters in Freedom, WI?
At Sunbow Painters, we are always focused on exceeding the expectations of our clients. Our goal is to ensure that you have the best possible experience when working with us. You can have peace of mind that all our services are competitively priced which assures you of excellent value for your money. We also take your time very seriously which is why we will always complete any work that we undertake within the agreed timelines.
If you want to get a free estimate or know more about our professional painting services in Freedom, WI, do not hesitate to contact us today.