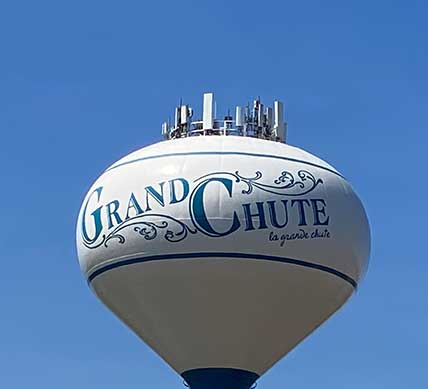 A fresh coat of paint changes so much more than just the color of your property. It can actually liven the place up and create a refreshing ambience within your rooms or even outdoors. With the correct technique, you can expect to see a huge difference to your property in no time. At Sunbow Painters, our reliable team is ready to be deployed to your home or office in Grand Chute to handle the paint project from the beginning until the end. You can expect nothing less than high-quality painting services for both interior or exterior painting projects at competitive prices.
About Grand Chute, Wisconsin
Grand Chute is situated within Outagamie County of Wisconsin.The town has nearly 21,000 residents. Grand Chute is the commercial and retail center for the area. The Fox River Mall anchors a regional shopping, hospitality and entertainment district. Grand Chute is home to the main campus of Fox Valley Technical College; Fox Cities Stadium; Gordon Bubolz Nature Preserve; several community and neighborhood parks; and, an extensive network of pedestrian and bicycle facilities.
Residential Interior Painting Services in Grand Chute, WI
Homeowners in Grand Chute turn toSunbow Painters for their interior painting projects. Our team of professional painters offers more than just skillful painting techniques. We aim to provide expert advice which homeowners can consider when contemplating to add a little creativity into their home setting. On top of the wide variety of colors that our inventory offers, our paint can also help protect your walls from pathogens, mold, and moisture problems.
Room Painting
Kitchen Painting
Bathroom Painting
Office Painting
Bedroom Painting
Dining Room Painting
Living Room Painting
Sun Room Painting
Basement Painting
Condo Painting
Duplex Painting
Painter for a Day
Color Consultation
Residential Exterior Painting Services in Grand Chute, WI
Exterior paint is just as important to ensure that your house looks stunning right from the outside. Do not worry about ugly peeling and mildew any longer with protective paint that Sunbow Painters offers. A fresh coat of paint is definitely a much cheaper option as compared to having a total replacement of brick, wood, vinyl, or aluminum siding.
Vinyl & Aluminum Siding Painting
Wood Siding and Cedar Shingles
Exterior Brick
Deck & Fence Staining
Garages
Powerwashing (for Surface Preparation)
Commercial Painting Services in Grand Chute, WI
Apart from residential painting projects, Sunbow Painters is also qualified to handle commercial paint projects. We provide quality painting services for offices, shops, retail stores, and more!
Office Buildings
Retail
Apartments
Schools
Healthcare
Hotels
Bars & Restaurants
Why Should You Work With Sunbow Painters in Grand Chute, WI?
Our past and existing clients have nothing but highly-rated feedback to share for the services rendered by our professional team. We are local, fully insured and our work is covered by a warranty. If you want to get a free estimate or know more about our professional painting services in Grand Chute, Wisconsin, do not hesitate to contact us today.