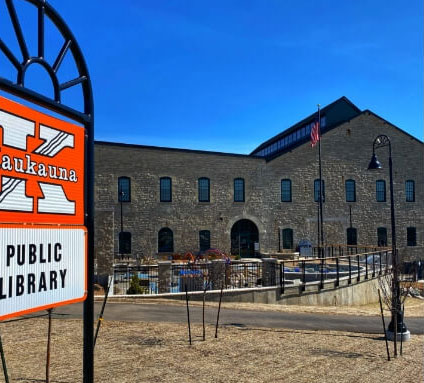 Are you thinking of giving your home or business a new look? At Sunbow Painters, our expert painters are here to help you freshen up your place and achieve the new look you are dreaming of. Sunbow Painters are pros in painting, whether it is painting the interior or exterior of your home, or painting commercial buildings. We are made up of a team of skilled and trustworthy painters who are committed to help you with your painting needs. Sunbow Painters pride ourselves on providing the best painting services at affordable rates.
About Kaukauna, Wisconsin
Kaukana is one of the oldest communities in Wisconsin. Today, it has a population of almost 16,000 residents. . As Kaukana is close to Fox River, residents can enjoy many recreational opportunities like the 1000 Islands Environmental Center, Historic Grignon Mansion and other facilities like sport fields, parks, a public library and a public swimming pool. The city also sponsors some events that are held in the Central Business District. This includes the Downtown Farmer's Market which runs from June till October and the Fox Firecracker 5k Walk/ Run.
Residential Interior Painting Services in Kaukauna, WI
With Sunbow Painters' residential interior painting services, homeowners can achieve the new look they have been thinking about. These painting services help build the atmosphere and ambience of the home, and make the living space a much more comfortable and personal one. Residential interior paint can also benefit residential houses by protecting the walls from mold, moisture and pathogens. Our services include:
Room Painting
Kitchen Painting
Bathroom Painting
Office Painting
Bedroom Painting
Dining Room Painting
Living Room Painting
Sun Room Painting
Basement Painting
Condo Painting
Duplex Painting
Painter for a Day
Color Consultation
Residential Exterior Painting Services in Kaukauna, WI
Apart from interior painting, Sunbow Painters can also help your home achieve a new look from the outside with a fresh coat of paint that is specially formulated for exterior painting. We can also help you get rid of problems like mildew, peeling and blistering, and give your home a makeover. Our services include:
Vinyl & Aluminum Siding Painting
Wood Siding and Cedar Shingles
Exterior Brick
Deck & Fence Staining
Garages
Powerwashing (for Surface Preparation)
Commercial Painting Services in Kaukauna, WI
We also provide commercial painting services that are top quality. We work on restaurants, apartments and other commercial buildings. Our commercial painting services include:
Office Buildings
Retail
Apartments
Schools
Healthcare
Hotels
Bars & Restaurants
Why Should You Work With Sunbow Painters in Kaukauna, WI?
Sunbow Painters is made up of a stellar team that is highly dedicated and commited in achieving the best results for you. For your peace of mind, we provide warranties for our painting services. Our team is efficient and will get the job done with high standards while we also place an emphasis on customer service.
If you would like to get a free estimate or would like to enquire about our painting services in Kaukauna, feel free to contact us today.