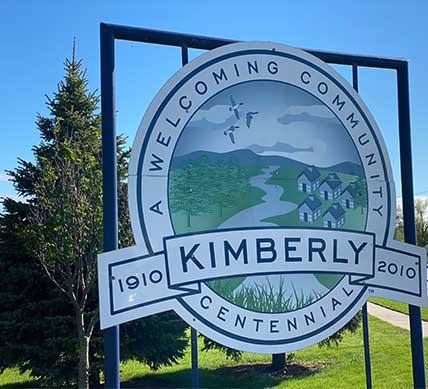 How is the appearance of your home these days? Is it time for the professionals at Sunbow Painters to give your house a refreshing and revitalizing paint job. Did you know that paint can be used to express creativity? It's the perfect platform. Liven up your exterior or use a splash of color to give your living room walls a whole new vibe. Make the accents in any room pop even more with designer colors on walls, ceilings, trim, etc. We can help you realize your goals through our extensive skills and services.
About Kimberly, Wisconsin
Kimberly is located in Outagamie County, with a total area measuring just under 2 1/2 square miles and an estimated population of 6,800 residents. Kimberly is approximately 88 miles north of Milwaukee and 3 miles east of Appleton. Named after John A. Kimberly in 1889, it was formally referred to as Smithfield and, before that, The Cedars. In its day, the Kimberly Mill produced specialty paper, magazine paper, fine paper, and other paper products. It was a mainstay of the area until it shut down. Kimberly High School football boasted a winning streak of 70 games that started in 2012 and ended in 2018. At the time, Kimberly had the longest active streak in the nation and was tied for the 13th longest winning streak ever by a high school football team nationally.
Residential Interior Painting Services in Kimberly, WI
With the right combination of choices, homeowners can use their unique ideas and creativity with our paint color showcase. Your residential interiors can be better safeguarded through our services which provide protection against pathogens, mold, moisture, etc. Avoid early deterioration by putting our high-quality paints and experienced professionals to work. Save on costs in the long run while still providing aesthetically pleasing coverings to your walls, ceilings, and more. We offer the following:
Room Painting
Kitchen Painting
Bathroom Painting
Office Painting
Bedroom Painting
Dining Room Painting
Living Room Painting
Sun Room Painting
Basement Painting
Condo Painting
Duplex Painting
Painter for a Day
Color Consultation
Residential Exterior Painting Services in Kimberly, WI
If, over a prolonged period, the exterior surfaces of your home are unshielded, they are exposed to any number of undesirable weather elements. To protect against deterioration, add a buffer layer of residential exterior paint by booking the services of our experts. In the long run, unnecessary expenses can be avoided by a little safeguarding today. By consulting with the dependable and friendly team at Sunbow Painters, you can receive professional advice and make an informed decision as to what's best for your situation. Spice up the life of your home with the following:
Vinyl & Aluminum Siding Painting
Wood Siding and Cedar Shingles
Exterior Brick
Deck & Fence Staining
Garages
Powerwashing (for Surface Preparation)
Commercial Painting Services in Kimberly, WI
To brighten up your space and provide you with the necessary elements for an aesthetically pleasing business environment, we, at Sunbow Painters, specialize in various areas of commercial painting. At affordable prices, we can help you completely transform the look and feel of any area. Could your workspace use a little refreshing and refinishing? Here are some examples of businesses we can assist with
Office Buildings
Retail
Apartments
Schools
Healthcare
Hotels
Bars & Restaurants
Why Should You Work With Sunbow Painters in Kimberly, WI?
You, the customer, come first in the minds of our Sunbow Painter's team of professionals. To deliver the absolute top results in workplaces and homes, in every project we execute, we uphold our integrity. For a professional painting experience you can count on Sunbow Painters.
If you want to get a free estimate or to know more about our professional painting services in Kimberly, Wisconsin, do not hesitate to contact us today.