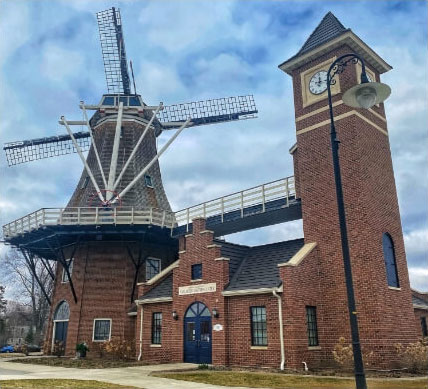 If you are thinking about giving your home a new look, Sunbow Painters is here to help you. No matter what your painting needs are or what you envision your home to look like, Sunbow Painters can help you achieve the look through painting your home's interior and exterior. Sunbow Painters has a wide client base and a dedicated team to help homeowners achieve the vision of their ideal home.
About Little Chute, Wisconsin
Little Chute is located in Outgamie County, and has a population of about 11,225 people. The city has a suburban vibe withbars, parks and restaurants. Little Chute is home to a Dutch windmill that is full-scale and authentic, and is operated by a non-profit organization, Little Chute Windmill. Little Chute Windmill is an attraction and museum where people can learn about the community's Dutch heritage.
Residential Interior Painting Services in Little Chute, WI
With Sunbow Painters' residential interior painting services, homeowners are able to customize home colors and create a space that is personal to them. This can make your home a lot more comfortable and allow you to switch things up as frequently as you would like. Apart from the wide selection of colors to choose from, the interior painting services also help to prevent mold, pathogens and problems that can arise due to moisture. Sunbow Painters' residential interior painting services include:
Room Painting
Kitchen Painting
Bathroom Painting
Office Painting
Bedroom Painting
Dining Room Painting
Living Room Painting
Sun Room Painting
Basement Painting
Condo Painting
Duplex Painting
Painter for a Day
Color Consultation
Residential Exterior Painting Services in Little Chute, WI
Sunbow Painters can also give your house's exterior a new look with our wide range of exciting colors. With the specially formulated paint, we can help prolong the exterior of your home. As the exteriors of homes are always exposed to elements of nature like the sun and the rain, it is important to use quality paint so that the exterior surfaces stay in good condition over time. Sunbow Painters can help you with all your exterior painting concerns. Our services include:
Vinyl & Aluminum Siding Painting
Wood Siding and Cedar Shingles
Exterior Brick
Deck & Fence Staining
Garages
Powerwashing (for Surface Preparation)
Commercial Painting Services in Little Chute, WI
Apart from residential painting, Sunbow Painters also specialize in commercial painting. If you have a business you would like to be painted, Sunbow Painters is the ideal option for you. Our team of experts are committed to help you with your commercial painting jobs. Get your fresh coat of paint for your workplace today! Our commercial painting services include:
Office Buildings
Retail
Apartments
Schools
Healthcare
Hotels
Bars & Restaurants
Why Should You Work With Sunbow Painters in Little Chute, WI?
Sunbow Painters is made up of a team of experts that are trustworthy and skilled. We take pride in every painting job we have. With Sunbow Painters, we put customers first, and will work hand in hand with our customers to freshen up your home or business.
If you would like to get a free estimate or have any questions about our professional painting services in Little Chute, Wisconsin, feel free to contact us today.