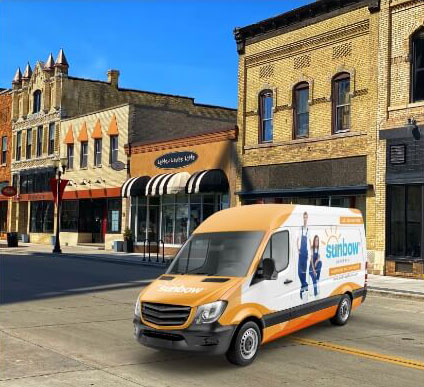 Are you looking to hire reliable painters who can deliver a worry-free experience from start to finish? Sunbow Painters is a full-service painting team that offers residential and commercial painting services in Menasha and the surrounding regions. Our painting pros have years of experience painting the interior and exterior of buildings. Whether you are planning to give your entire house a facelift or paint a single room, we have got your back.
About Menasha, Wisconsin
Located in Winnebago County, Menasha is a city with a population of over 17,500 residents. Also known as the Little Island, Menasha is home to beautiful waterfronts and quaint downtowns. A wide variety of properties in this city were constructed by turn-of-the-century paper barons. Some of Menasha's most notable points of interest include the beautiful Fox River, Weis Earth Science Museum, Barlow Planetarium, and Bergstrom-Mahler Art Museum.
Residential Interior Painting Services in Menasha, WI
Painting the interior of your property is a multifaceted task that typically requires dedication and time. If you do not feel up to the task, don't worry; painting pros from Sunbow Painters are more than happy to help. You can trust us to get the job done through efficient and reliable painting solutions. Our company has the tools and experience to paint the interior of a wide array of residential properties with proficiency and quality. As professional painters, our crew gives a lot of attention to detail when performing all painting tasks. We will help create the perfect setting for your bedroom, living room, and more!
Room Painting
Kitchen Painting
Bathroom Painting
Office Painting
Bedroom Painting
Dining Room Painting
Living Room Painting
Sun Room Painting
Basement Painting
Condo Painting
Duplex Painting
Painter for a Day
Color Consultation
Residential Exterior Painting Services in Menasha, WI
At Sunbow Painters, our painting pros can provide excellent exterior painting services for residential properties in Menasha. We strive to do our best work and exceed our customers' expectations. Since our inception, we have been working with homeowners to transform their properties into a certain look, spruce their homes' exterior up, or apply a new coat of paint. We utilize high-quality paint so that it protects your property from harsh weather elements such as UV rays, wind, and rain.
Vinyl & Aluminum Siding Painting
Wood Siding and Cedar Shingles
Exterior Brick
Deck & Fence Staining
Garages
Powerwashing (for Surface Preparation)
Commercial Painting Services in Menasha, WI
Sunbow Painters understands how difficult it can be to tackle painting alone. That's why our commercial painters are here to help take the pain out of painting and get the job done. We can handle both small paint jobs and large scale paint projects that involve your entire building. Our painting pros have painted the interior and exterior of schools, warehouses, office buildings, restaurants, retail outlets, and more.
Office Buildings
Retail
Apartments
Schools
Healthcare
Hotels
Bars & Restaurants
Why Should You Work With Sunbow Painters in Menasha, WI?
Sunbow Painters is recognized for offering professional painting services at the most competitive rates. Although we maintain a high level of professionalism, our team is also known for our neighbor-friendly approach. We treat all of our customers like our friends and neighbors, so that everyone feels at ease and have a good time!
If you want to get a free estimate or know more about our professional painting services in Menasha, Wisconsin, do not hesitate to contact us today.