A living room is one of the most important rooms in one's home. It is the room where family and friends tend to spend the bulk of their at-home time together after the kitchen. And because this type of room often takes on several different roles, it has to remain versatile. If you have just purchased a home, as the new owner, you may visualize which wall paint colors to apply. It natural for any person to imagine all of the tasteful and stylish designs that they have seen on magazines and/or Pinterest.
Choosing a color palette to use for one's walls can be challenging if there is limited space. Although white paint colors are a common solution to "open up" the space, sticking to a single color can be boring. Don't worry; we are here to help. In this post, we will feature other types of paint colors, from dark and bold to bright and light.
Blue-Green Paint
If you are looking for a serene paint color, blue green has a soothing and calming effect; it is like the color of the ocean. For this option, one can't go wrong with using aquamarine, turquoise, or teal. These are versatile colors that can transform rooms in ways unimaginable! For example, teal paint colors with a misty finish can help evoke a beachy vibe and give small rooms a dynamic feel.
Beige Paint
Beige is recognized as a classy color that never goes out of style. This paint color has a great balance of white and tan. In addition to bedrooms, powder rooms, and kitchens, beige wall paint also complements rooms that has natural wood accents, greenery, natural light, and white furniture. If you or your loved ones find white too basic but are not yet for bolder colors, beige makes for an excellent choice of color.
Grey Paint
A rule of thumb is that one can apply darker wall paint colors in smaller spaces. In such cases, grey paint can help evoke a sense of sophistication and modernism. If you are going for a more traditional style and want an alternative to beige or white paint color, opting for a grey tone is a great idea. Remember that you can dress up or down depending on how casual or fancy you may get with the furnishings.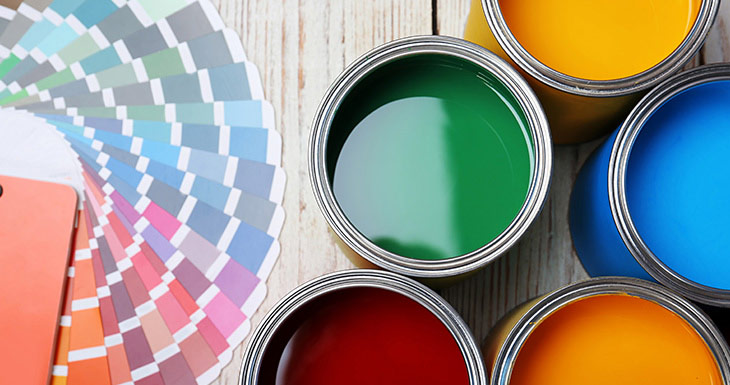 Clay Beige Paint with Khaki Undertones
Ochre has a natural earthy appearance and a golden mid-toned tan. This paint color pairs nicely with warm tones of sage greens, rusts, and copper and can be used to create a luxurious atmosphere, especially in living rooms. In addition, this neutral tan paint color helps create dimension in the room when it is combined with lighter grey walls.
Naval SW 6244
In some cases, smaller spaces are great places for property owners to make a statement. Darker shades of blue can complement a small space without being too overwhelming. This paint color creates a perception of depth; it makes the space appear larger than it is. Naval SW 6244 is a deep shade of navy and has won the Sherwin-Williams Colors of the Year 2020 Award. It is bold and striking, exuding the opulence of Art Deco. Homeowners can increase the warmth of Naval SW 6244 by pairing the paint color with gold metallic accents.
With a little imagination and the right coat of paint, homeowners can easily change the look and feel of their living rooms. Determine the highlights of your room and think of ways to make them stand out!